Elderts ohana, supporters march for justice
"We miss him everyday, he's talked about everyday, he's remembered everyday. We're still lost, empty, not the same as we once were when he was around."
"Agent Deedy was a loaded gun."
That sentiment was expressed by the supporters of Kollin Elderts, who was shot and killed in November 2011 by Christopher Deedy, a federal agent who was in Hawaii for the Asia-Pacific Economic Cooperation (APEC).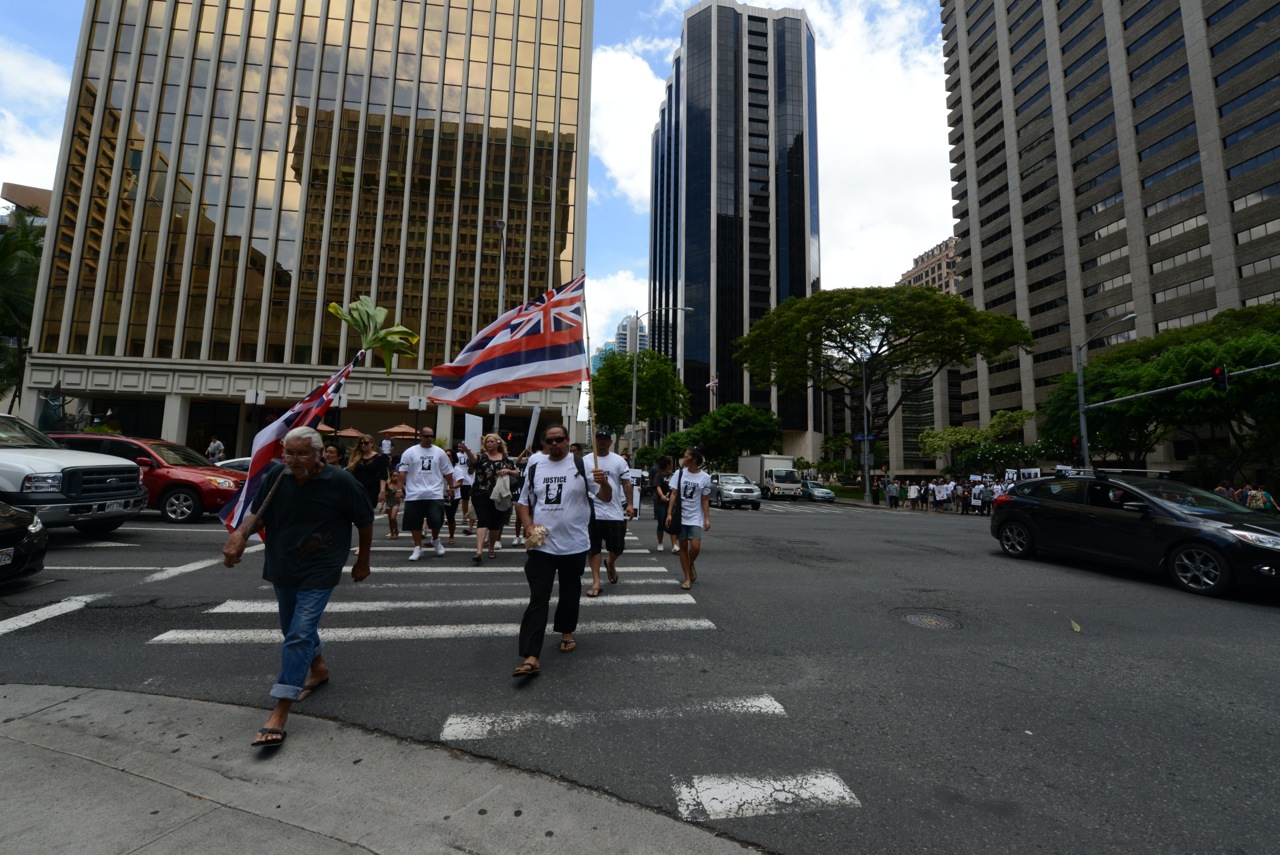 On day two of Deedy's retrial, after the jury couldn't reach a decision last year, the Elderts family took a stand.
Along with dozens of their friends and supporters, the group marched from Iolani Palace to the U.S. Department of State's Diplomatic Security Service (USDSS) in downtown Honolulu to deliver a petition with 1400 names, calling for Deedy to be fired.
One of Elderts brothers, Ikaika Bruhn, told those gathered outside the USDSS building that by Deedy still being employed, "the USDSS is declaring Kollin's murder a good kill." He implored supporters to help the family find justice.
"Fight to ensure that he will never be able to hide behind a badge again and kill another one of our sons, brothers, daughters or sisters," said Bruhn.
The office was closed and would not accept the petition, so it will be mailed to the office on Monday, according to Kalama Niheu, coordinator of the event.
The crowd then marched to the Circuit Court on Punchbowl Street.
Emotions were running high. Supporters held signs reading "The State Department Murdered Kollin" and "Victim of a Racist System"; conch shells were blown and supporters chanted, calling for justice.
Elderts' oldest brother, Zachary Elderts, told those gathered outside the courthouse that the retrial was bringing up all the same emotions from last year.
"We've got a lot of love and support from a whole bunch of different groups that are here behind us, and our brother is watching above us as well, making sure we push through this," Elderts said.
"We haven't accepted it, the loss of our brother, its like we're still waiting for him to come home. That's how we feel three years later; it's been a long time, but it feels like it hasn't been that long," said Elderts.
"We miss him everyday, he's talked about everyday, he's remembered everyday. We're still lost, empty, not the same as we once were when he was around."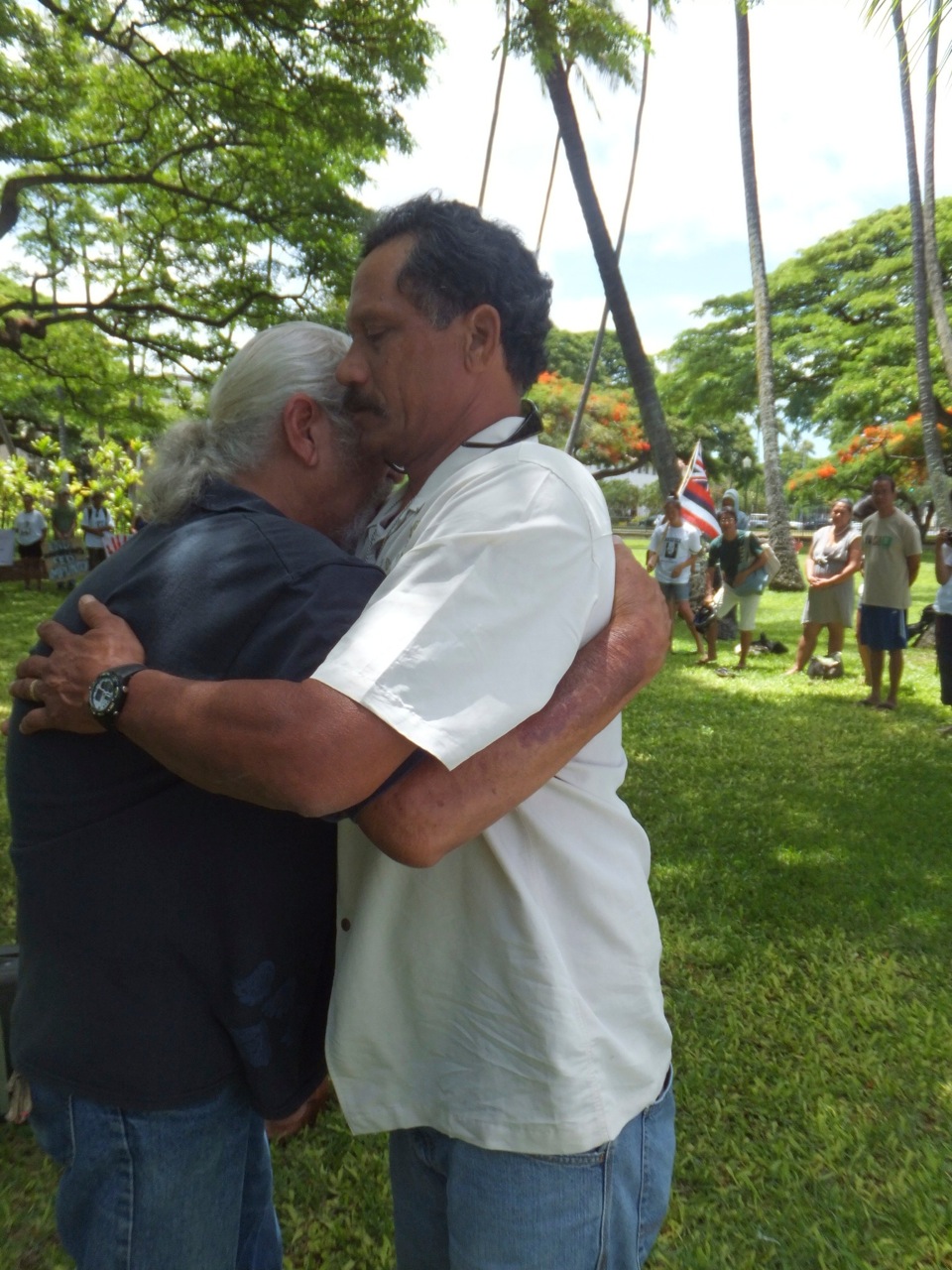 As to whether the prosecution has a better shot this time around, Elderts didn't want to say.
"That's what the justice system is for," he said. "Do we have a better chance? I'd love to say we have a better chance, with the support and love we have from everybody, but in the end it's not our decision."
"The only request we're asking the federal government is to fire the man that did what he did. … To fire somebody that murdered my brother, and he's still allowed to have his job, that is not right in a lot of peoples' eyes," Elderts said.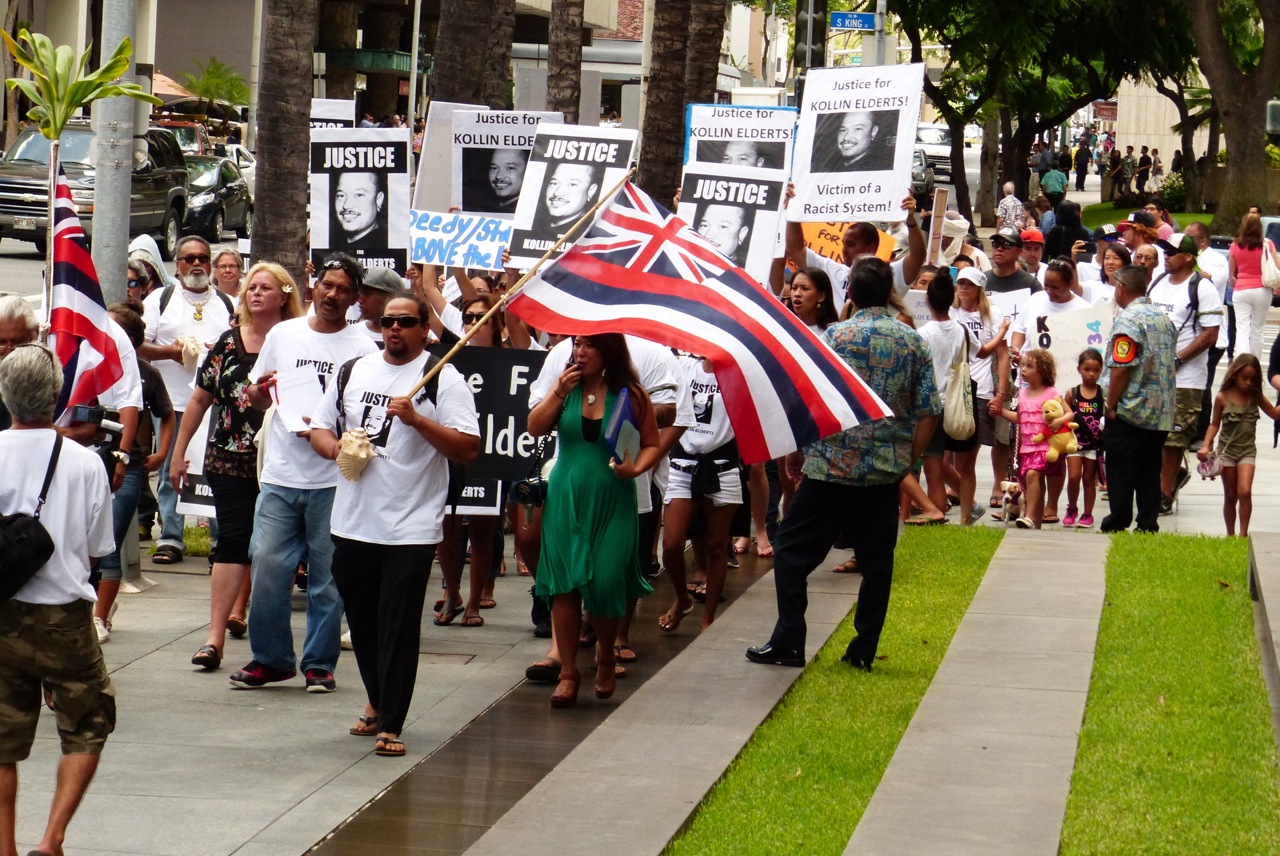 Niheu expressed why the group was gathered together to support the Elderts family.
"We believe that Kollin could have been any of our sons or any one of our daughters. He did nothing wrong. He was a little kolohe; but he never did a single thing that would warrant being executed," she said.
Supporters from the National Organization for Parents Against Murdered Children, Women's Voices Women Speak-Hawaii Chapter, World Can't Wait and the Coalition for Kollin Elderts, among others, spoke out as well.
Terri Keko'olani, of the Coalition for Kollin Elderts, said, "As we march today, we know very little can make things better for the Eldertsʻ family. But unfortunately, we are reminded that there are many things that can make it worse. And going through two trials is surely making things worse. Having Christopher Deedy still on the job and with his badge and carrying this gun is making things worse."
Ellen Cachola, also from the coalition, added, "We are here to let them (the government) know we demand Justice for Kollin Elderts! We demand genuine security, genuine peace and genuine sovereignty for our families, our communities, and our precious island home."
Photos by Ed Greevy