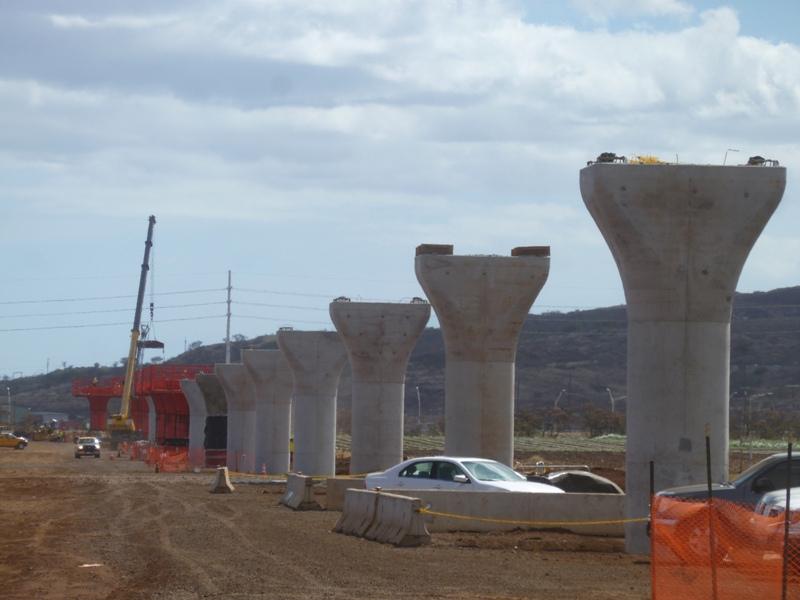 Mayor responds RE Rail, Blaisdell projects
House to Mayor: One project at a time is all Honolulu can handle
The Rail tax special session: what happened to our representative democracy?
Honolulu City Council to hold special rail meeting on Friday
Public briefing on rail funding set for August 14
Special session will be called to fund Rail
Alt Rail plan could be completed with existing funds
Accountant's analysis of rail data shows "pattern of errors and inconsistencies" →
Land is power in Honolulu Hale
Is rail too little, too late?
Rail's growing money pit
HART seeks to fill board of directors seat
HART to examine five contract bids for "Farrington Group" of rail stations
$1.56 billion rail budget approved →
Rail, full speed ahead →
Last stand for rail opposition →
More human remains unearthed
Letter to the next mayor: We need a better planning process
More human remains found along rail route →
Supreme court denies city's rail motion →
The Hawaii Supreme Court on Thursday denied a City and County of Honolulu motion for the high court to reconsider its ruling on the city's controversial $5.16 billion rail project.
The takeaway: rail is still stalled. More at Pacific Business News »
FTA delays rail funding til after election →
"We look forward to signing a full funding agreement … by the end of the calendar year, barring any unforeseen complications," [FTA spokesperson] Farber said.
More at Star-Advertiser (paywall) »
Kaleikini has til Friday to respond on rail lawsuit →
City files a motion to keep rail rolling →
The shutdown of rail – what does it mean?
Cayetano calls for brakes on rail
By Sunday morning, Honolulu may or may not have a mayor. →
Construction begins on rail control center →
"This is the brains, and the trains. The maintenance facility is where we house the 80 trains. We will maintain them and it will also be our operation control center," said HART Executive Director Dan Grabauskas.
More at KITV »
Rail stations designs changing →
Any changes to the elevated platforms will likely be detailed in the latest Project Management Oversight Contractor report, which is due out this week.
Current designs are available here. More at KITV »
Future of rail, development hinge on mayoral election →
To build more housing for more commuters appears to double down on a failed strategy. Even with rail, these developments would add more cars and congestion than we have today.
Apologies if you can't get past the paywall. But his thesis – that this year's mayoral race is a referendum on rail and the push to develop 'Ewa, which themselves are linked – is cogent. More at Star-Advertiser (paywall) »
Telling the truth is no disservice
Cayetano releases FTA emails →
"This is the most mismanaged project in 28 years of office," Cayetano said today after reading several of the emails to the media. He is running for mayor in 2012, and critical of how his opponents, Honolulu Mayor Peter Carlisle, and former city Managing Director Kirk Caldwell, managed the project.
More at Hawaii Reporter »
Rail revenue surpasses projections, city officials say
Rail: City Department of Corporation Counsel responds to federal judge's ruling
HonoluluTraffic.com calls judge's motion a victory for anti-rail activists
Comment: What will rail and HOT lanes do for Honolulu?
Consensus comes to City rail workshop in Kalihi
Verbatim: Major conflicts of interest with Honolulu Rail Transit consulting firm
Letter: Actually, the rail transit board is as political as you get
Plaintiffs confident in lawsuit against elevated rail
Downtown Neighborhood Board to discuss rail, noise, reapportionment
Council transportation committee to hear hundreds of rail property acquisitions
Verbatim: Elevated rail is all about politics and money, we can't afford it
Banana Patch properties picked for rail facilities, families must relocate